Personal Plasma Ionizer Air purifier Dr. USB Healing Ion Shower
Personal Plasma Ionizer Air purifier Dr. USB Healing Ion Shower
Plasma Ionizer
It's a business area about indoor air quality improvement eliminating harmful substances (virus, bacteria, mold) in the air with plentiful ions produced by plasma discharge.
We are leading the customized air quality improvement for one person household with IM Healthcare's own brand ionizer "Dr. USB" which solved the problem with ozone generation by previous negative ion generator.
Also we are handling OEM brand because we make our own ion generating module "Hades" which is the core technology of ionizer. The ionizer product lineup is gradually growing including ionizer for closet, baby carriage and so on.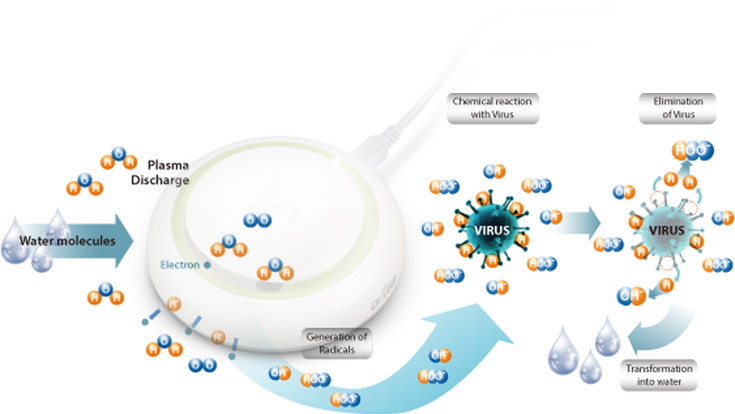 Clean System
Dr. USB produces plentiful ions and these remove
the function of bacteria, mold and virus in the air.
Formation of plasma discharge field
Forms plasma discharge field by applying high voltage to (+), (-) electodes, separates
water molecule to H+ and O2- ions.
Formation of hydroxyl radical
High reactive hydroxyl radical is generated by chemical reaction between separated ion and released electrons from (-) electrode.
Reaction with virus in the air
High reactive hydroxyl radical sterilizes reverting H+ ions at the end of cell membrane of virus and bacteria in the air to water molecule.
* Provides Ion filled space within a 1M radius.
* Reduces Allergens: mold, airborne particles, dust, pet dander.
* Removes indoor odors.
* Connects to the USB port.
* Imported from the USA.
* Greatly reduces Allergens including mold, airborne particles,
dust, pet dander
* Removes odors such as tobacco smoke, fumes, food odors, and pet smells
* Provides Ion filled space within 1M radius
* Conveniently plug-in USB port
* Plasma Ionizer Dr. USB
* When you feel murky
* To remove indoor VOCs
* To remove bad odors in the car
* To remove bad smells in office
* When you need fresh air.
Stylish contour design | Basic principle | tones with warm white and cool gray.
Compact & slim size (104 * 104 * 32 mm)
Head Office
No. 97B, Ground Floor, Phase -1 Porur Gardens, Chennai – 600089, India.
Factory
South-Korea
Hs-Global